1/15/2016
Lee Ritenour, GuitarHD Interview with James H.
We all had an amazing time at Lee Ritenour's studio in Brentwood today. James H. conducted a brilliant interview with the legendary jazz guitarist for GuitarHD. Lee's 2016 Six String Theory Competition is now open for registration. Be sure to check out: SixStringTheory.com
Interview coming soon to GuitarHD.com
1/11/2016
DAVID BOWIE, REST IN PEACE
David Bowie was such a huge influence and made such a huge impact on every stage of my life in music. Rest in Peace.
. 

12/3/2015
Single #2 'JAGWIRED' On Deck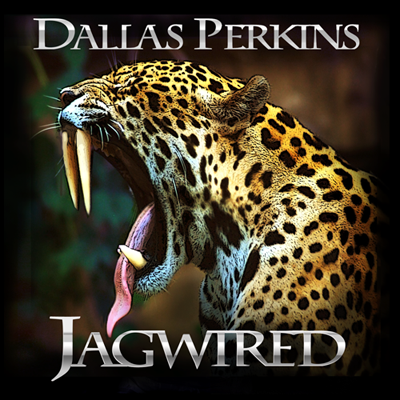 The final mix of my next single, 'JAGWIRED' was completed last night at Doom Room studio in Granada Hills. Huge, huge thanks to Dave "Chili" Moreno for all his hard work mixing, editing and over-all sonic mastery self evident on this track as well as Mexican Puppets. The man has skills! ;-) Make sure to check out Doom Room Studio... .https://www.facebook.com/DoomRoomStudio1. 

I would also like to extend my gratitude to Neil Citron for a fantastic mastering job on Mexican Puppets. Both tracks are part of a single download series I plan to continue into 2016.
Cheers,
DP
10/28/2015
MEXICAN PUPPETS SET FOR HALLOWEEN RELEASE
MEXICAN PUPPETS, The first in a series of DP singles will be ready for a Halloween release! The very 'SPOOKY' instrumental track will be available on ITunes, Spotify, Amazon as well as a variety of digital outlets. Stay tuned...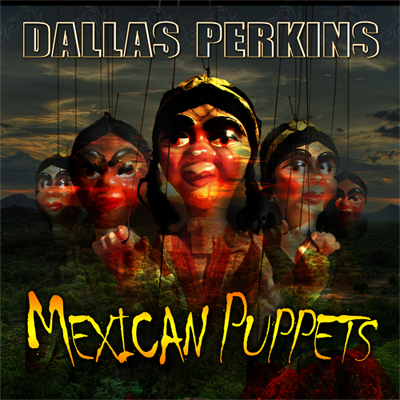 Instagram Licks!
I will be posting new ideas, licks, riffs and other video shorts via Instagram as well has DallasPerkins.com. Enjoy!

INSTAGRAM/DALCHEMYDP
10/03/2015
New DP Album Preview Tracks Now Live on SoundCloud
Preview tracks from Dallas' forthcoming guitar instrumental album are now uploaded via SoundCloud.com/DallasPerkins
and right here at DallasPerkins.com.

9/27/2015
New Album Preview Tracks!
New tracks for DP's upcoming guitar instrumental album will be posted this week via

Twitter,

Facebook and DallasPerkins.com. Stay tuned!
6/15/2015
DOOM ROOM ~ Back in the Studio!
Back to work at DOOM ROOM studio in Granada Hills. Dave Moreno (Puddle of Mudd, Bruce Dickenson) and I are busy with the final mix of soon-to-be released DP instrumental guitar music. So much looking forward to sharing with you all! For updates and preview of the unreleased tracks, follow me on:

TWITTER,

FACEBOOK and DALLASPERKINS.COM

DOOM ROOM STUDIO, GRANADA HILLS, CA
5/08/2015
GuitarHD.com featured on VaiAcadaemy.com and Vai.com
Huge thanks to Steve Vai and Dreamcatcher Events for posting our
Guitar HD interview series, "A Conversation With Steve Vai"
on VaiAcademy.com amd Vai.com
Steve Vai proudly invites you to Vai Academy 2015 this summer at The Arrabelle at Vail Square in Vail, Colorado. This year's Vai Academy will be
'All About The Guitar' where you'll spend 4 days and nights discovering the intricacy of the guitar while jamming the day away with Steve and his handpicked guest instructors. Musicians of all ages and levels are welcome.


4/14/2015
GuitarHD.com Presents
"A Conversation with Steve Vai - Vai Academy 2015"
Part 1 of GuitarHD's "A Conversation with Steve Vai," Steve talks about last year's Vai Academy and the upcoming August 2015 Vai Academy to be held in Vail Colorado. Some elements of his latest release "Stillness In Motion" DVD, music as conversation regardless of skill level are also covered. Be sure to check out GuitarHD.com for updates on the rest of this exclusive interview.

3/25/2015
GuitarHD.com Interview with Steve Vai





Dear Friends,

Wow! It's been ages since I've had a chance to update this site. I've been extremely busy with so many projects that sadly, my own website has suffered neglect ;-( . However, a recent turn of events has forced my hand (so to speak) and I now have something exciting and newsworthy to report.
On Friday, March 13, my long time friend and GuitarHD.com editor Jim Hagadone and I sat down to chat with iconic guitarist Steve Vai at his studio in Encino, CA. Mr. Vai was extremely cool and gracious as we talked for nearly two hours covering a range of topics including this summer's second annual
Vai Academy, his incredible new double DVD/CD package, "Stillness in Motion: Vai Live in L.A." and much more!

Make sure to check out GuitarHD.com as well as our Youtube channel,
Youtube.com/GuitarHDLive for updates.

Cheers,

News Archives
Thrust Magazine Cover Story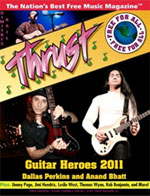 Catch DP on the cover of THRUST MAGAZINE, which features an indepth artist profile by journalist John Urban.
"Reviews all confirm that Dallas has acquired the rare balance of creating intricate solos that are complex and inventive without getting lost in the speed he is capable of. Just watching his fingers stretch like a contortionist on his fretboard into diabolical scales and riffs make his rhythm parts almost as intriguing as his solos."

Read More >>

6/18/2011
Motor Function 12 Now Available on iTunes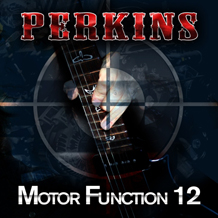 DP's first single Motor Function 12
is now available on iTunes, Amazon MP3 and most online stores. This track features the explosive drumming of Fernando Jaramillo and Bass Ace Arron Samson.
Mixed by Neil Citron.

Full length instrumental release will soon be available this summer!
Stay tuned.
4/25/2011
Sam Ash Music & PRS Guitars Clinic Tour Images

Photo Gallery Update from the Recent West Coast PRS Guitars & Sam Ash Music Clinic Run.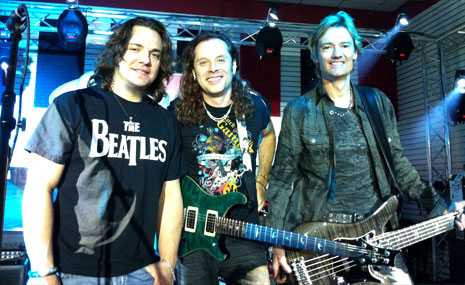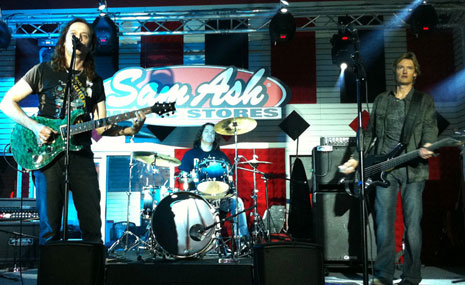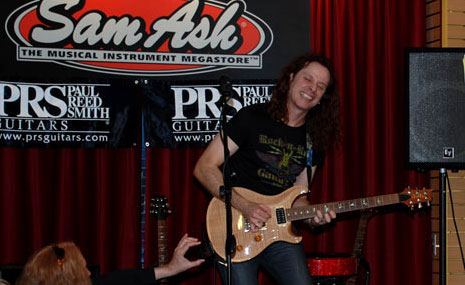 <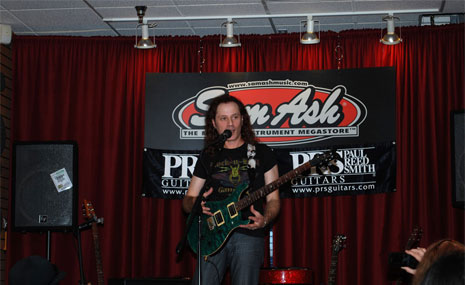 View More Images >


3/17/2011
Dallas Perkins - Featured Artist @ PRSGuitars.com


PRS Guitars has recently featured Dallas in the "Artist Spotlight" section of their 2011 February newsletter. DP was also recently added to their distinguished list of PRS Artists on PRSGuitars.com.
>> PRSGuitars.com/artists/profiles/dallasperkins



Welcome to yet another incarnation of DALLASPERKINS.COM! If you haven't done so already, signup for my newsletter or shoot me an email and i'll keep you posted on all the upcoming DP & Fretboard Alchemy events.
Rock!


PRS GUITARS PRESENTS DALLAS PERKINS LIVE
2011 WINTER CLINIC TOUR @ SAM ASH MUSIC

This February & March, Dallas Perkins will be conducting  FREE Live Guitar Clinics at the  Sam Ash Westminster, Canoga Park, Cerritos, Ontario & Las Vegas  stores for PRS Guitars. Dallas will be demonstrating a variety of &analog effects as well as showcasing the latest PRS models.
Admission is Free! Giveaways by PRS Guitars, Voodoo Lab, Ernie Ball Stirngs, Coffin Case, RockNRoll Gangstar Apparel and more!

First show kicks off at the Westminster location in the OC! Click here for more info. Hope to see you all there!
1/11/2011
WINTER NAMM SHOW January 13-16 it's that time of year again!
I'll be heading down to Anaheim for the 2011 Winter NAMM Show at the Anaheim Convention Center this Thursday thru Sunday. I can easily be found at PRS Guitars, Avid/Digidesign, Mesa Boogie and Ernie Ball. Looking forward to seeing old friends and making some new ones! ;~)
Also, make sure to check back for updates on the Southern Cal
Fretbaord Alchemy Celebrity Jam coming this March as well
dates for my upcoming Sam Ash Winter Clinic Tour.
Finally, my web guys and I have been working hard on an all new DallasPerkins.com scheduled to go live on 2/5/2011. Stay tuned
1/01/2011
HAPPY NEW YEAR!!!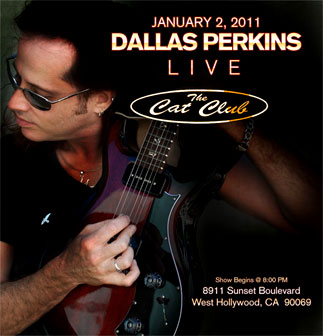 Sunday, january 2nd, Dallas kicks off his first show of 2011 at the world famous Cat Club on the Sunset Strip.